Who we are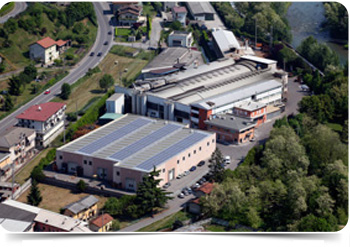 The company was set up in 1954 through Giovanni Arizzi's great passion for foundry work and mechanical processing; in 1971 it transferred to the current establishment in Albino on premises measuring over 20,000 square metres.
Arizzi Fonderie San Giorgio S.p.A. has over time become professional in different areas owing to a highly qualified team focused on research and development who are able to identify the technical needs of the customer and respond to what is required.
In a continuously evolving market, ensuring quality and flexibility are overriding concerns for Arizzi Fonderie. That is why our company sets itself the main goal of growing above all in new markets, seizing with competence, professionalism and efficiency the exciting opportunities offered by an increasingly demanding clientele.
The casting plants consist of a modern oxy-combustion furnace that supplies three electric pouring furnaces.
The two "green" forming automatic plants are served by a sand-producing plant with a Hartley analyser.
Arizzi Fonderie produces high-quality iron castings, both ductile and lamellar, "green sand" formed, up to 1,000 Kg.
Since 1998 the company has been registered to ISO 9001 for the Quality System.
Since 2011 the company has been registered to ISO 14001 for the Environmental Management System
Arizzi Fonderie San Giorgio S.p.A. is a prestigious company that is there for its customers.